When I think about who God is, I'm left simply speechless. There have been many times, on my knees contemplating Him, that I've found myself weeping.
Why?
Because of how awesome He is. Because He saved me when I was a 12-year-old boy. Because He's answered thousands of prayers and been good and gracious and forgiving over and over. Because He makes His presence known, allows me to converse with Him, and assures me of His unconditional love.
How could I ever choose not to worship, obey, and love Him in return?
What about you?
If you had to describe God to someone else, what would you say? And how would you know if your view is right?
Many people have misconceptions about God, imagining that He compromises on sin, accepts everyone's choices, or always blesses. Even Christians can have an inaccurate understanding of the Lord. In fact, we all do to some degree, because He's infinitely unfathomable. Human beings can only grasp "the fringes of His ways" (Job 26:14).
So how can we know the truth about Him? Well, He describes Himself with perfect accuracy in His Word. And although anyone can read Scripture, only believers have the Holy Spirit to help them understand it (John 14:26). Furthermore, because we have a personal relationship with Jesus who indwells us, we're able to rely on Him as we seek to comprehend God's attributes. While the worldly may know His law (Rom. 2:15), only God's children "have the mind of Christ" (1 Cor. 2:16).
Examining what the Bible says about God will inspire amazement, provide the peace of understanding, and increase the joy we feel over our relationship with Him. Look with me at just four of the many attributes mentioned in Scripture that are uniquely God's:
First of all, let's consider His greatness.
"Great is the Lord and highly to be praised; and His greatness is unsearchable. … On the glorious splendor of Your majesty and on Your wonderful works, I will meditate" (Ps. 145:3; Ps. 145:5).
One way to appreciate the magnitude of God is to look at the natural world.
He designed and made all of it—the earth, sky, and the vast universe beyond it, as well as the incredible complexities of each tiny leaf and petal. We have no ability to create things like these or give them life, but God does. He made everything in heaven and on earth (Gen. 1:1). I hope the miracle of His creation brings praise to your lips as you recognize His greatness.
What about the nations and powerful rulers?
"All the nations are nothing before Him," and earth's "inhabitants are like grasshoppers" (Isa. 40:17; Isa. 40:22). He "reduces rulers to nothing" and "makes the judges of the earth meaningless" (v. 23).
Knowing this, we need not become overwhelmed or despairing because of political or social upheavals. Our God reigns over it all. While in the world we must act justly and love mercy (Mic. 6:8), but our true citizenship is in heaven (Phil. 3:20). We're held securely in the Savior's hand through all the turmoil until we reach our eternal home.
Second, the Lord is infinite.
"Oh, the depth of the riches, both of the wisdom and knowledge of God! How unsearchable are His judgments and unfathomable His ways!" (Rom. 11:33).
It's impossible for our finite minds to fully grasp the concept of infinity. But ponder this: God's knowledge, wisdom, and understanding have no limit. There's no error at all in anything He does, says, or wills. You can trust Him when He guides or instructs you, because He's always right. And this limitless quality applies to all His attributes, such as faithfulness, love, and power.
Third, God is eternal.
"Now to the King eternal, immortal, invisible, the only God, be honor and glory forever and ever" (1 Tim. 1:17).
God had no beginning, and He will have no end. I know this boggles the mind because we live in the realm of time and cannot comprehend eternity. But God is outside of time, which He created. It's extraordinary to contemplate what this means for us: Everyone who has eternal life in Christ will one day live with Him forever in a paradise without end.
Finally, God is immutable; He never changes.
"For I, the Lord, do not change" (Mal. 3:6). His attributes remain constant, His promises will never fail, and none of His plans can be thwarted. "God is not a man, that He would lie, nor a son of man, that He would change His mind; has He said, and will He not do it?" (Num. 23:19).
This is true for all people, not just God's children through Christ Jesus. But as believers, this attribute of our God is wonderful news. It means His promises for our good are certain, bringing favor, blessing, strength, and eternal life.
When I think about how great—and how utterly beyond the human mind—God is, I'm amazed that He would reach down to save me, and then love, guide, and protect me for the rest of my life.
I encourage you to meditate on some passages of Scripture that describe Him. As you do, you may find yourself falling to your knees in praise and worship. In those moments, the personal relationship you have with God as your loving Father will grow exponentially. You'll discover new depths of tenderness and intimacy as you lean on the love of this unfathomable and majestic God. There's no better, or more incredible, place to be than in His hands.
Prayerfully yours,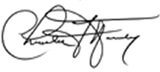 Charles F. Stanley
P.S. A new year offers a fresh opportunity for resolving to grow in your knowledge and understanding of the Lord. In Touch Ministries' continuing goal is to help believers grow strong in their faith. If you'll contact us, we can help you find resources to support you as you discover the greatness of your amazing God and Savior.