Once, on a wilderness photography trip, we had traveled up a trail for about three hours when I suspected we were lost. The guide assured me we were on the correct path, but my uncertainty didn't go away. I pulled out my compass to check, showed it to the guide, and he finally agreed—somehow we had veered off course.
By the time we reached our destination, the light was fading as evening approached. I was disappointed because I probably missed some great shots.
Maybe you've sometimes wondered if you were going the right way. If having the right guide was that important for a photography trip, imagine how much more important it is in daily life.
It's a complex world full of obstacles and deceptive ideas along the way. Even your own desires, dreams, and plans might cause you to veer from God's course. How much better it is to trust and follow your Savior, who died to rescue you from sin and give you abundant life (John 10:10).
Are you on the path the Lord has prepared for you today, or have you decided to direct yourself?
One of my favorite passages about divine guidance is Psalm 32:8-9. It contains a promise and a warning. "I will instruct you and teach you in the way which you should go; I will advise you with My eye upon you. Do not be like the horse or like the mule, which have no understanding, whose trappings include bit and bridle to hold them in check, otherwise they will not come near to you."
Sometimes it may feel as if the path ahead is uncharted—after all, you've never been alive before. You have your own calling and you're uniquely made in God's image, as all His children are. However, you're not the first person to walk with the Lord. And though the world has changed, the human condition hasn't.
Many faithful believers have gone before you, and there's much to learn from their examples (Heb. 12:1-2). I've always found it to be a tremendous comfort knowing the Lord is always with us on this journey, and that He gives us the company of His saints as we go.
For as long as you and I are on earth, He'll be there to faithfully guide us, taking us by the hand through every circumstance. And afterward, He'll receive each of us with open arms into His glory (Ps. 73:23-24).
To appreciate what a blessing this is, let's look at how He'll lovingly guide your life—if you follow.
God carefully watches over you.
"Lord, You have searched me and known me. You know when I sit down and when I get up; You understand my thought from far away. You scrutinize my path and my lying down, and are acquainted with all my ways" (Ps. 139:1-3).
God knows you better than you know yourself, which means He's more qualified than you to guide your life. He understands all your weaknesses, is familiar with every facet of your personality, and takes all these things into account as He directs your steps.
The Lord always chooses the best path for you.
We know this in our minds, but sometimes we look around and doubt that the path we're on could possibly be the best. Suffering, illness, loss, trouble, unfairness, and hardship certainly don't seem good to us. That's when we need to remember the words of the psalmist, "It is good for me that I was afflicted, so that I may learn Your statutes" (Ps. 119:71). Even when times are hard, God's plan is still good. He hasn't failed you.
The Lord chooses experiences for us that work for His eternal purpose of making us more like Christ. The question isn't whether His is the right path, but whether you'll trust Him in the midst of dark valleys, dangerous passages, and rough terrain.
Wherever you are in life right now, the Lord is right there with you, guiding and strengthening you to walk through it.
God provides everything you'll need as you follow Him.
"His divine power has granted to us everything pertaining to life and godliness, through the true knowledge of Him who called us by His own glory and excellence" (2 Pet. 1:3).
The Lord gives strength when you're weary, hope when you're discouraged, comfort in loneliness, and wisdom when you lack understanding. No other guide can do all this, and you'll find it on no path but His. God's grace is sufficient for every need and situation.
God guides you with His Word.
"Your word is a lamp to my feet and a light to my path" (Ps. 119:105).
Perhaps the reason we don't sense the Lord's guidance is because we aren't looking for it. Or maybe we're looking in the wrong place. The best way to recognize His direction is through consistent reading of His Word. That's where you'll find His voice, as well as exemplary stories of saints who've gone before you.
The more familiar you become with the Bible, the better you'll be able to perceive His leading.
The Lord is willing and able to guide you on the best path if you'll heed His directions and follow where He leads, but a stubborn spirit only makes the journey harder for you. The key to following your Lord is developing a humble, teachable spirit that's willing to submit to Him at every stage of the journey.
Remember, He alone knows the trail. And He'll never, ever lead you astray.
Prayerfully yours,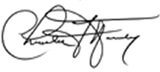 Charles F. Stanley
P.S. A new year offers a fresh opportunity for resolving to grow in your knowledge and understanding of the Lord. In Touch Ministries' continuing goal is to help believers grow strong in their faith. If you'll contact us, we can help find resources to support you as you discover the greatness of our amazing God and Savior.